Lijiang tour guide| Lijiang tourist guide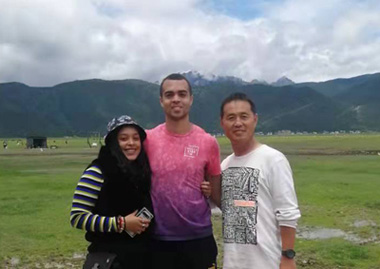 Dear travellers around the world,
It's my pleasure to introduce myself. my name is William and a Lijiang tou guide in Lijiang City , I Love my hometown and I'm enjoying every moment in this city. I have a tourism certificate and therefore knowledgeable of what western tourists want and need to enjoy their travel. At the same time, I know Dali and Shangrila well and have been to these places many times, so I can be a Dali tour guide and Shangrila tour guide, too.
Nobody likes to be treated as tourist when travelling, when I, a Lijiang tour guide serve guests, I would like to show my guests communicate with the local people, to see the local market, to know the local life of the people, but not just go to some sightseeing places and take photos.
As a Lijiang tour guide, love children and I am very patient with older people.I feel they are my children and my parents,I feel so lovely with them.
I have beeing a Lijiang tour guide since 2002, I specialise in arranging private tours for individuals or groups interested in exploring Shangrila, Lijiang,Dali,Kunming. I have helped thousands of visitors from around the World arrange tours. I can arrange tours from adventure tours involving activities such as Trekking&Hiking, Sightseeing, Cycling, Horse-riding and Camping to City Tours and Cultural Tours which showcases the various ethnic minorities indigenous to this region.
All activities and programs are arranged without the involvement of third-party travel operators/agencies to ensure that no unnecessary charges are added to the overall costs of your tour arrangement. I would like all visitors to experience the fascinating history, cultures and natural environment of this beautiful land where I come.If you need Lijiang tour guide service, or assistance in your transportation/accommodation arrangements and itinerary planning. Contact me at williamlijiang@163.com.
I look forward to showing you the heritage site, Lijiang and Paradize view of Shangrila.
William Wang
Private Lijiang Tour Guide Contact information:

William Wang

Phone: +86 13628882596

Email: williamlijiang@163.com

Wechat: williamlijiang
Address: Baimayuan Village, Huangshang Town, Yulong County, Lijiang City, Yunnan PRC