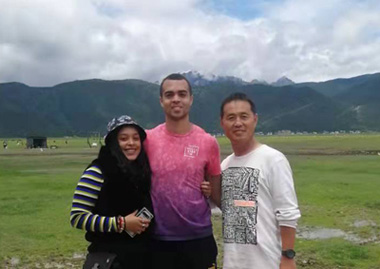 Hello, Welcome to Lijiang. My name is William Wang, an experienced independent Lijiang tour guide and Lijiang tour guide and driver with a 7 seats van in Lijiang city, Yunnan province, PRC.

We are the region's leading eco-tourism and cultural-tourism operation, specialising in taking you to non-touristy places. Over 16 years of working experience as an Lijiang tour guide. We can help you explore Yunnan's diversity, 26 different minorities, and the wonders of nature, mountains,lakes, glaciers, forests and blue skies.

I offer private customized tours of Dali, Lijiang and Shangrila. I am in Lijiang, the neighbour cities are Dali, Kunming and Shangrila, you can start your tour from anyone place you like, I will serve you as skilled Lijiang driver and professional private tour guide in one person accordingly.Actually I know Dali city and Shangrila city very well and I can be your Dali tour guide and Shangrila Tour Guide, too.
China tourism law requires that all Lijiang tour guides (Lijiang travel guide) are licensed. I was officially licensed by the China National Tourism Administration (CNTA) on 2002. I am a skilled lincensed Lijiang driver from 2007, I can be your Lijiang English speaking driver for your private transportation, meanwhile, I can be your Lijiang tour guide and driver at the same time.

With the good co-operation with local scenic sites and culture show companies, I can book the entrance tickets for you at first hand contract price. And for the culture show tickets booking, we can help you to get the good seats.

Personally, As a Lijiang travel guide, I am an energetic person who loves traveling, hiking, cycling, and reading, which makes me more open-minded and optimistic to face whatever happens around me. As a Lijiang travel guide, during your staying with me, I will be your window to see China while you are my window to see the world.
Now, I have 2 cars, one car is 7 seats min-van MPV, another one is 5 seats SUV with huge storage space. For detail, please reference the below car pictures. You can choose with your favorite. Sure, if you need other car, I can arrange for you accordingly.
I can arrange the following tour business for you:

Lijiang English speaking driver guide service, Lijiang tour guide | Lijiang travel guide services, tailor make your customized private tours, private transportation in Dali, Lijiang and Shangrila,airport pick-up and drop-off services, single or multiple day-tours in Yunnan.
Should anyone interested with private Lijiang tour guide service, for Lijiang, Dali or Shangrila car useing, or Lijiang tour guide (Lijiang travel guide) service, please contact me, I will tailor made a memorable Yunnan tour for you. If booking Lijiang English speaking driver and car with me directly, no some unneccesary extra fee charged by the travel agents, your trip will be more economical.
Private Lijiang Tour Guide Contact information:

William Wang

Phone: +86 13628882596

Email: williamlijiang@163.com

Wechat: williamlijiang
Address: Baimayuan Village, Huangshang Town, Yulong County, Lijiang City, Yunnan PRC