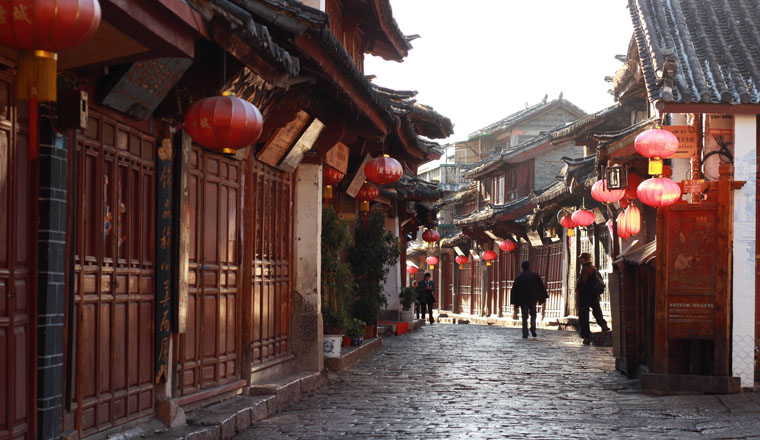 Day 1 Lijiang Arrival & Lijiang 
Ni Hao! Welcome to Lijiang, a very impressive ancient city! Upon arrival at the airport or railway station, your guide and driver will meet you at the arrival hall and transfer you to the hotel with a private car which is comfortable, air-conditioned and non-smoking. 

After a short rest, you'll start a memorable tour in Lijiang Ancient Town (Dayan Ancient Town). Established in the Yuan dynasty as a commercial center, Lijiang Old Town is a well-preserved 800-year-old town for Naxi ethnic group, listed as UNESCO World Heritage Site in 1997.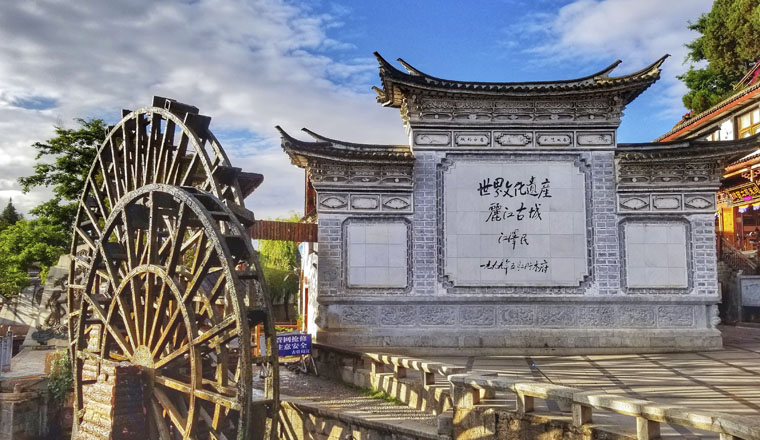 Walk to the central area of the old town and visit Mufu Palace. A saying goes "there is Forbidden City in the North, Mu's Residence in the South". Mu's Residence was called the miniature Forbidden City. Looked from a far distance, it likes a grand imperial palace and it is famous for the grandness and architectural buildings. Getting into the palace, you can know Tusi's ruling history and appreciate Naxi people's brilliant culture and fine arts. Then, wander through the old alleys, old bridges, featured shops and bars to Sifang Street Square, a mingling ground to enjoy lively atmosphere and unwind yourself. If time permits, join the Naxi people and tourists to dance happily in a round. (Optional Activity: Take a leisure walk up to the Lion Hill and climb up the 33-meter-tall Wanggu Tower - the landmark building of Lijiang to enjoy a panoramic view of the whole old town and overlook the magnificent Jade Dragon Snow Mountain in the distance.)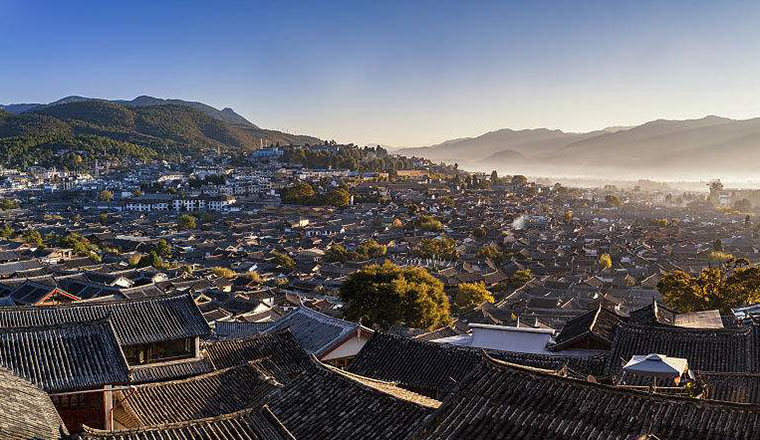 After that, head to Dongba Culture Museum where more than 10,000 Dongba cultural relics show mysterious Dongba culture of the Naxi people. Take a gentle walk to Black Dragon Pool Park to enjoy gorgeous view and peaceful surroundings. If weather permits, get to the best spot to overlook the snow-capped Jade Dragon Snow Mountain and shoot some amazing pictures.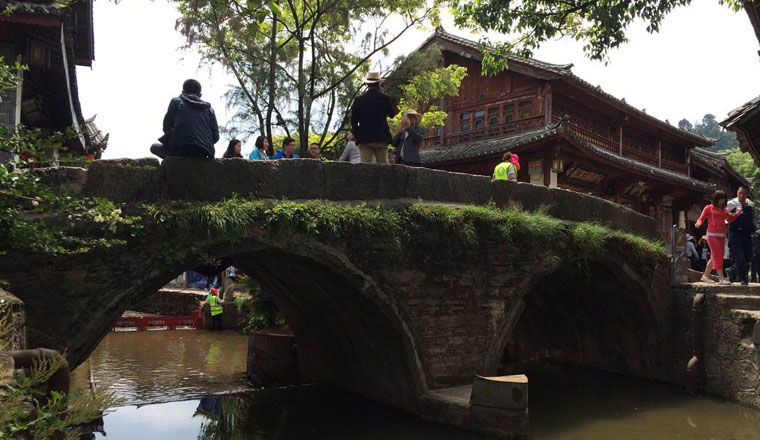 Day 2 Lijiang & Jade Dragon Snow Mountain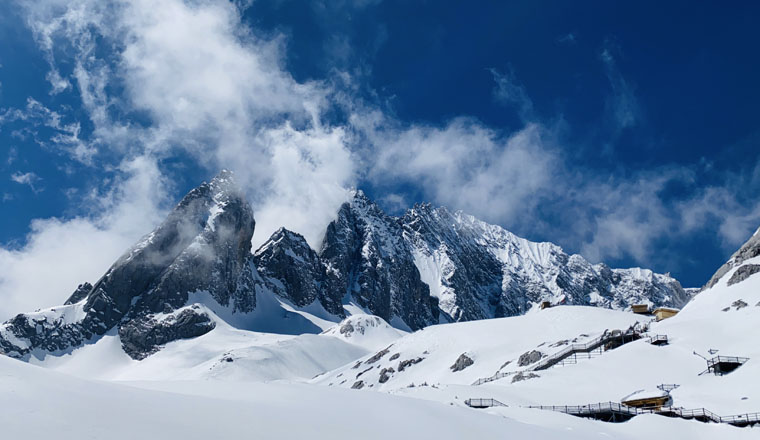 In this morning, your guide and driver will pick you up at your hotel and escort you to the Jade Dragon Snow Mountain, the southernmost glacier in the Northern Hemisphere. The 13 peaks in this mountain area are the sacred mountains among Naxi people. Take the tramway to the Spruce Meadow at 3,000 meters high, and you can both see the fascinating sightseeing and appreciate the gorgeous look of the whole snow mountain at the best place.
After that, you can choose to enjoy the electrifying Impression Lijiang Show (Optional) performed by 500 local people under the white snow and blue sky with the background of white Jade Dragon Snow Mountain, which lasts for about 70 min. (Note: For the ticket is hard to book in peak season, if you are interested in the show, please tell us your likes in advance.)
At the same time, you will enjoy the charming scenery and the crystal clear water various with the weather in Blue Moon Valley and its White Water River.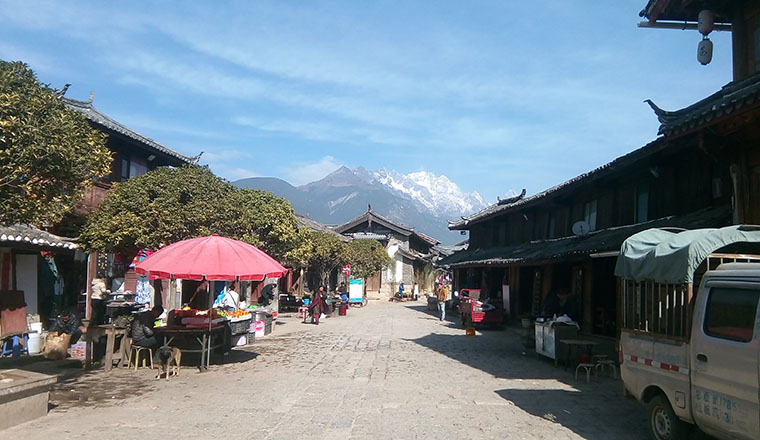 After that, head to Baisha Village, a world cultural heritage site in Lijiang, walk around in the village to learn about the local minority groups life. (Optional experience: You can have in-depth cultural experience to learn how to make Baisha embroidery instructed by the local masters in Baisha Village.)
Please Note:
1. If you want to visit Yak Meadow (with an altitude of 3,500 meters) which offers a good location to appreciate the 13 peaks of Jade Dragon Snow Mountain; or go to Glacier Park (at 4,680 meters ) to see the wonder of the "Green Glacier Peaks", please tell your like to your travel consultant to adjust the itinerary. Different tramways have different prices. Please pay attention that it will be difficult to book the ticket of Glacier Park tramway, you need to tell your likes to us or book the ticket in advance. Besides, it takes about 1-2 hours to queue up for the tramway to Glacier Park.
2. For the tickets of Impression Lijiang Snow are hard to book in peak season, if you want to enjoy the show, please tell us your interest and we'll help to book the tickets in advance.
Day 3 The first bend of Yangtze River and Tiger Leaping Gorge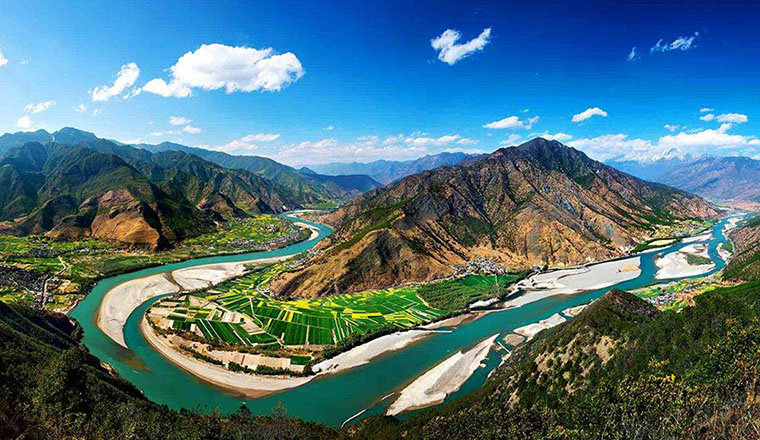 After breakfast, your guide and driver will pick you up at your hotel. First, drive about 52 kilometers from Lijiang to view the First Bend of Yangtze River. The upper reach of the Yangtze River is Jinsha River coming down from Qinghai-Tibetan Plateau and when it arrives at Shigu Town, it is obstructed by Hailuo Mountain and forms a V-shape turn. Then it changes the direction and goes to the northeast. You'll reach the observation deck to catch a panoramic view of the bend, an extraordinary turn nearly about 180 degrees with beautiful and marvelous views like a wonderful landscape painting unfolding before your eyes. You'll have a look at local market and Red Army's Long March Memorial Monument in Shigu Town.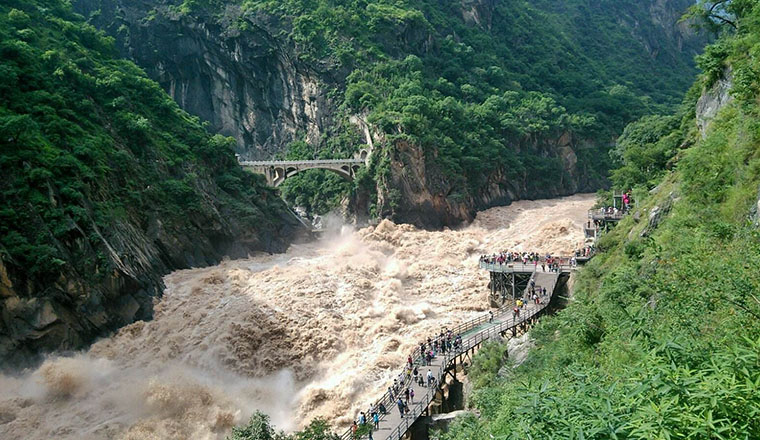 Later, be transferred to visit the one of the deepest and most spectacular river canyon in the world - Tiger Leaping Gorge. It is also a part of UNESCO World Heritage Site called Three Parallel Rivers of Yunnan Protected Areas. This steep gorge is situated between the 5596 meters Jade Dragon Snow Mountain to the south and 5396 meters Haba Snow Mountain to the north. Measuring 17 kilometers in length, the whole gorge is divided into three parts: upper, middle and lower gorge and you'll pay a visit to the maturest section - Upper Tiger Leaping Gorge. Walk about 1,000 stairs along the plank road from the entrance to the Tiger Leaping Rock. Take a moment to enjoy the magnificent gorge view and rolling waves. (Travel tip: This gorge is suitable for most travelers with easy walk. Comfortable shoes are recommended.)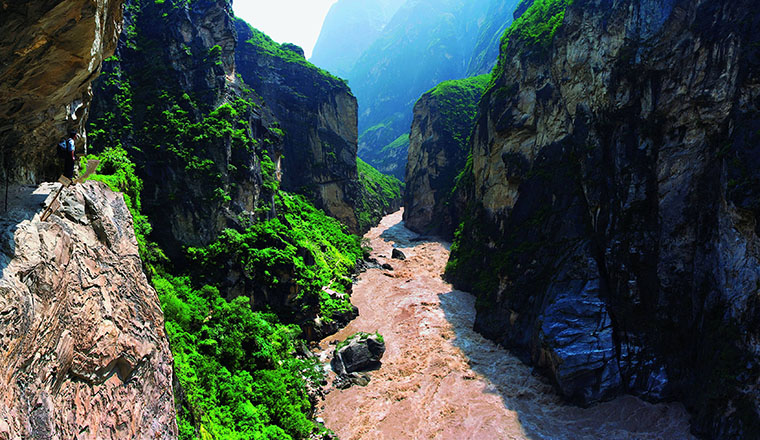 After the tour, drive back to Lijiang. Your guide and driver will escort you to the airport or railway station to catch your flight / train (after 17:00) to next destination. (Note: If the departure time will not match your trip schedule, our travel consultant will help you adjust the itinerary to well suit your time. Please feel free to contact us.)