Dali Ancient Town is about 13km away from Xiaguan in Dali City and is one of Dali's Three Ancients-ancient city, ancient pagoda and ancient steles. History of Dali can be dates back to 1382 during the Ming Dynasty and it has been listed among the top historic cities of China.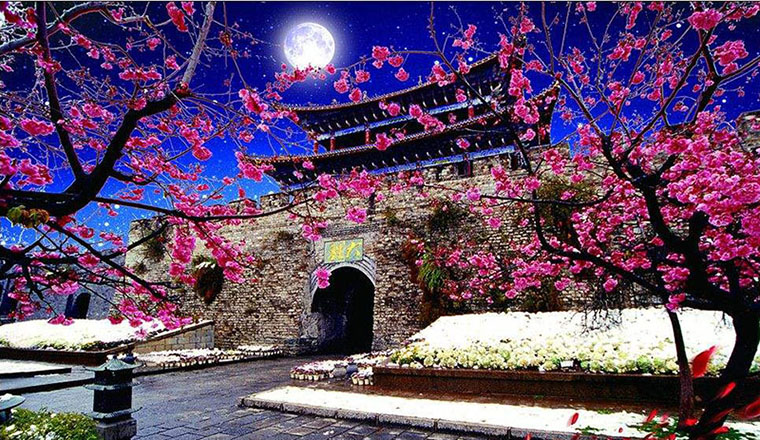 Unlike any other Chinese town, the traditional Bai ethnic folk houses give the town distinctive feel. The town's layout was uniform, with five main streets from south to north and eight main streets from east to west, while marketplaces were neatly arranged within the town, which has remained unchanged to this date. Besides the Bai houses, the houses with gray-green roof tiles, peculiar workshops, temples, schools and churches with antique flavor are scattered. Traditional marble artworks, like pencil vases, striped screen, and a variety of woven handicrafts of fine straw are laid chockablock on both sides of the street to be appreciated and purchased. Its grand city wall, traditional Bai houses and marvelous scenery have been attracted many visitors.
Dali is also famous for the many types of marble it produces, which are used primarily in construction and for decorative objects. In fact, Dali is so famous for the stone that the name of marble in Chinese is literally Dali Stone.
Dali Ancient City
Dali's newly finished administrative district that houses the newly opened Dali International Convention Center is in Longshan District. The Dali government's urban planning keeps its old and new districts separate, so those coming here for the first time often feel they have entered a time tunnel.
The new city is known as Xiaguan and is south of the old city. The old city was built during Ming Dynasty emperor Hongwu's reign (1368–1398). Owing to the distance between them, the old city is still peaceful and quiet.
What to See
Dali Ancient City roads are still maintained the chessboard type grid structure since the Ming and Qing dynasty, known as the nine streets and 18 lanes. The north-south two gate towers have been restored. A street across the city from south to north, deep and quite street lane is criss-cross from west to east. The whole city is full of grey tiles dwellings with cobblestone wall.
• The first gate of the ancient city—Wenxian Buiding
Wenxian Building is located in 1 km away from the south gate of Dali Ancient City, which is known as the first gate of the ancient city, and is the landmark of Dali Ancient City. It was established in the Qing dynasty emperor Kangxi period. Horizontal inscribed board of the building was written "historic town with rich culture" by Piantu, the chief commander of Yunnan Province in Kangxi period fortieth year (AD 1701). Wenxian Building stretch across the road which leads to Dali Ancient City from the south, and on both sides of the road lined with willow trees which is quite picturesque. Wenxian Building is two floors of gable and hip roof type, it has typical Bai architectural features.
Wenxian Building has gone through damage and reparation for several times in the history, and Wenxian Building reconstruction work started on November 28, 1998, completed on April 29, 1999. After reconstruction, Wenxian Building is 60 meters wide from east to west, 30 meters long from north to south and the main building is 24 meters high with a building area of 1600 square meters.
Dali Ancient City
• The world's first building of ancient Nanzhao kingdom—Wuhua Buidling
Wuhua Building is state guesthouse of ancient Nanzhao king, also called to Five Flowers Building. Since Nanzhao, Wuhua Building was burned down for many times, and rebuilt many times, but it was smaller after rebuilding over and over. Today the area of Wuhua Building has formed a certain scale of calligraphy and painting market, operating varieties include calligraphy, Chinese paintings like landscape flowers and birds painting and figures painting, etc., and leather trade and oil painting sale is very active.
• Foreigners' Street—Huguo Road (Nation Protection Road)
The east-west Huguo Road in the Dali Ancient City is known as the "foreigner street". One by one Chinese and western restaurants, cafes, tea houses and gift shops here, their signboard and advertising is written in English, attracting blond foreigners lingering here and looking for ancient archaic Chinese rhyme, gradually the street become a unique scenery.
• Dali Christian Church
Dali Christian church is located in road intersection of Dali Ancient City Fuxing Roand and Heping Road, was founded in June 1904, which was called "Chinese Christian church" at that time. In 1956, it changed its name to "Dali Christian unity council ". In 1980, it changed its name to "Dali Christian zion". Again in 2004 changed its name to "Dali Christian church". In 2008 it was listed as the municipal cultural relics protection unit. The major structure of church is timberwork, hip roof, which maintained the style of the western church, but also has strong Bai architectural characteristics that is a combination of Chinese and western church.
Dali Ancient City